Building Construction  

  Civil / Heavy Highway  

  Bridge / Marine  

  Industrial / Plant  

  Historic Preservation

A professional building estimate is more than just a schedule of values and anticipated costs. When prepared correctly, it provides a clear, concise and comprehensive detail of the means, methods and related cost factors necessary to construct any project.
There is no substitute for experience and knowledge when developing a detailed estimate. Our building estimating team is comprised of seasoned, building cost estimators and construction professionals that bring decades of estimating, design, construction and project management experience to every estimate we build.
We have assisted contractors and owners on many beautifully designed buildings created by some of the most talented architects in the industry today.  We invite you to review a sample of our project history.

At TCH Consulting we have built our business and our reputation on successful long-term client relationships. This means being flexible, responsive and loyal to the client. We assist our building clients with a wide variety of standard and specialized services.
Quantity Take-offs
Specialty Estimates
Full Service Estimating
Site Investigations
Quote Reconciliations
Cost/Time to Complete
On-site Bid Day Assistance
Claims Preparation
General Administration
Construction Management
Business Development
Database Development
The following project list represents only a small sample of type of projects estimated to date.
APARTMENTS:    120 units,   270, units,   340 units
AUTO DEALERSHIPS:   Mercedes Benz, Lincoln Mercury, Toyota and Honda
BIG BOX RETAIL:  Wal-Mart, Home Depot, Lowes, Sam's Club, BJ's,  ToysRUS, Borders and Michaels
SPECIALTY RETAIL: AT&T, Starbucks, Banana Republic, Whole Foods
THEME PARKS: Disney, Animal Kingdom, Downtown Disney, SeaWorld, Universal Studios, Busch Gardens
THEATERS: GCC, AMC, Carmike, Cineplex, Muvico, Epic
HIGH-RISE CONDOMINUMS: Infinity, Continuum I/II, Axis, Capital Towers, Kubik, Regalia, The Waves
HOTELS: Embassy Suites, Courtyard, Radisson, Holiday Inn Express and Hyatt Place
MEDICAL: Hospitals, Oncology Centers, Assisted Living Facilities
MILITARY: Air Traffic Control Towers, Barracks, Officer Clubs, Hospitals, Child Development Centers,  Administration Buildings
OFFICES &  WAREHOUSES: Single and Multi-story Office Buildings and Warehouses and Distribution Terminals
PRISONS: Michigan Department of Corrections, Florida Department of Corrections and GTMO – Cuba
RESTAURANTS: Chilies, Red Lobster, Olive Garden, Specialty Foods and Fast Food chains.
SCHOOLS: Elementary Schools, High Schools, Technical Colleges, State Colleges and Universities
INFINITY – MIAMI, FLORIDA
Beginning in about 2002 and flourishing until the financial melt-down of 2008, the advent of Miami's luxury high-rise building boom provided us numerous opportunities to work on some of the most celebrated ocean view condominiums. The following data provides a brief summary of one of our high-rise projects.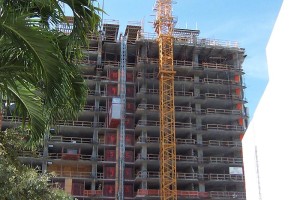 PLEASE NOTE: Case study reports are provided for informational purposes only.  Unauthorized use of this information is strictly prohibited.
Project:           Infinity at Brickell
Year Built:      2008
Location:       Miami, Florida
Developer:     DYL Development Group
Architect:       Borges & Associates
Floors:            57
Total Units:  458 Units
Job Assignment:     Hard-Bid Estimate
Shell Estimate Value:  41,000,000

Total Labor Man-hours:  310,000

Scope:
The TCH Consulting Group was tasked with providing a complete, fully-labored and detailed, multi-divisional estimate for the shell construction of the Infinity high-rise project. This estimated included all general conditions, such as: supervision, hoisting, temporary facilities, surveying and traffic control.
The scope of the estimate included: environmental controls, WellPoint dewatering systems, excavating, trucking, temporary shoring, hoisting equipment including both tower crane(s) and placing booms, foundations, cast-in-place pile caps, parking garage decks, slab on-grade, elevated slabs, columns, beams, shear walls, stairs and landings, planters, pool, spas and specialty concrete.
Resteel: 7,500 tons
Post Tension:755,500 lbs
Concrete Vol: 64,000 cys
Concrete ksi: 3-10 ksi
Formwork: 2,160,000 sfca
Shore: 32,000 sqft
Reshore:  1,073,500 sqft
Finishing:  1,159,328 sqft
Hoisting Requirements:1 x 30   ton rt-crane
1 x 200 ton crawler crane
2 x 316 eh self-erecting tower cranes
2 x 120 ton tower crane foundations
Tower Concrete Placing Requirements:
2 x self-jacking placing booms
Safety Equipment:
Safety debris nets: 50,000 sqft
Safety cable rail: 1,500 lnft
EXPERT ESTIMATING SERVICES
Order of Magnitude Estimates
Conceptual Budgets
Design Development
Dynamic Residential Cost Models
Hard Bid Estimates
Constructibility Reviews
Cash Flow Analysis
Development Performa's
Life Cycle Analysis
SPECIALTY TAKE-OFF EXPERIENCE

Asphalt Paving
AT Protection
Auger/Impact Piling System
Blasting
CIP Concrete / Shortcrete
Custom Millwork
Deep Foundations
Dewatering Systems
Directional Drilling
Dredging
Drywall and Interiors
Ground Stabilization
HVAC / Mechanical System
Lumber Packages
Marine Construction
Masonry
Earthwork Estimates
Off-shore Structures
Plant Mechanical
Plumbing
Post Tension
Process Piping
Shell Construction
Structural Steel
Transmission Lines
Wall Systems / Tilt Wall
Underground Utilities